Worried About OCD?
Published: 04/11/2013
Learn More:
Can Onions Fight Flu?
Related:
Colds & Flu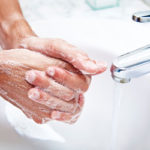 Obsessive-compulsive disorder (OCD) is one of the anxiety disorders, and is a potentially crippling and chronic condition. Those who suffer from OCD are caught in a cycle of repetitive thoughts and behaviors that interferes with even simple, everyday tasks. Although they often realize the behaviors are senseless, the compulsion to perform them remains extremely difficult to defeat. Although OCD symptoms typically begin during the teenage years or early adulthood, some children develop the illness at earlier ages, including the preschool years. In addition to seeking appropriate psychological and psychiatric counseling, I recommend that people diagnosed with OCD consider taking fish oil supplements, which contain omega-3 fatty acids. These essential fatty acids have been shown to help alleviate a wide range of psychological conditions, especially those characterized by anxiety.
Find out which vitamins are right for you.
Everyone's dietary needs are different based on a number of factors including lifestyle, diet, medications and more. To find out
what vitamins you need
, take the
Weil Vitamin Advisor
. This 3-step questionnaire requires just minutes to complete, and generates a free, no-obligation vitamin and nutritional supplement recommendation that is personalized to meet your unique nutritional needs.
Natural Healing Orthotic Sandals
Dr. Weil recommends footwear and orthotic insoles incorporating Orthaheel technology, a science-based platform that can help relieve common foot, ankle and knee pain. Orthaheel's podiatrist-designed sandals provide natural support and comfort without compromising style. Visit Orthaheelusa.com today to see our NEW spring sandal collection for women and men.