What's the Healthiest Fish?
Published: 11/14/2013
Learn More:
Doing Without Breakfast?
Related:
Nutrition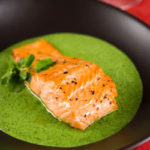 I have long recommended fish as part of a healthy, anti-inflammatory diet. However, not all fish provide the same benefits, and some species should be limited or avoided altogether, including large predatory fish and omega-6 rich fish (such as farm-raised tilapia). My advice for the healthiest fish is to choose species rich in omega-3 fatty acids.
Omega-3s are necessary for optimal physical and mental health. Research indicates that the omega-3 fatty acids found in cold-water fish may help reduce the risk and symptoms of a variety of disorders, and can lower triglyceride levels, increase HDL cholesterol, help minimize inflammation and inappropriate blood clotting, and keep blood vessels healthy.
The best sources are wild-caught Alaskan salmon, canned sockeye salmon, sardines, herring and black cod. I recommend two to six servings per week of fish that are high in omega-3s as part of my anti-inflammatory diet. If you do not eat fish, a high quality fish oil supplement like the one in the Weil Vitamin Advisor is a reasonable substitute.
Find out which vitamins are right for you.
Everyone's dietary needs are different based on a number of factors including lifestyle, diet, medications and more. To find out
what vitamins you need
, take the
Weil Vitamin Advisor
. This 3-step questionnaire requires just minutes to complete, and generates a free, no-obligation vitamin and nutritional supplement recommendation that is personalized to meet your unique nutritional needs.
Vital Choice Wild Seafood & Organics
Vital Choice's wild Alaskan salmon is recommended by Dr. Weil because of its rich nutritional content and exceptional taste. As the leading source for fast home delivery of the world's finest wild seafood, whole-food supplements, and fine organic fare, Vital Choice is committed to serving the best. Quality foods that are the purest available and always sustainably harvested. Shop Vital Choice now – and sign up for Vital Choices, our free e-newsletter with up-to-the-minute health news, recipes, and exclusive special offers.