Weekend Yoga: Downward-Facing Dog
Published: 04/28/2013
Learn More:
Bunions
Related:
Condition Care Guide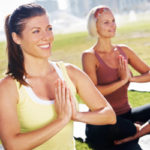 If you are looking for a quick pick-me-up, skip the coffee and instead try the Downward-Facing Dog yoga pose! It is a revitalizing pose that is traditionally used to:
Calm the brain and relieve stress and mild depression
Energize the body
Stretch the shoulders, hamstrings, calves, arches and hands
Strengthen the arms and legs
Prevent osteoporosis
It is also said to help improve digestion and to relieve headaches, insomnia, back pain and fatigue. Learn how to do the Downward-Facing Dog.
Find out which vitamins are right for you.
Everyone's dietary needs are different based on a number of factors including lifestyle, diet, medications and more. To find out
what vitamins you need
, take the
Weil Vitamin Advisor
. This 3-step questionnaire requires just minutes to complete, and generates a free, no-obligation vitamin and nutritional supplement recommendation that is personalized to meet your unique nutritional needs.
2013: The Year of the Smile!
Make 2013 the Year of the Smile with Dr. Weil's website, SpontaneousHappiness.com! In just eight weeks you will have experienced the tools, knowledge and support to help you get to a happier place, naturally. Don't let sadness get you down – start your 10-day free trial now!