Weekend Yoga: Bridge Pose
Published: 04/21/2013
Learn More:
Bronchitis
Related:
Condition Care Guide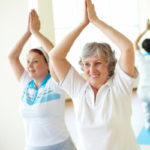 The Bridge Pose is a powerful tonic for body and mind. It provides an invigorating stretch for the chest, neck and spine. Traditionally, its benefits are said to also include:
Calming the mind and alleviating stress and mild depression
Stimulating abdominal organs, lungs and thyroid
Rejuvenating tired legs
Improving digestion
Relieving the symptoms of menopause
Reducing anxiety, fatigue, backache, headache and insomnia
It is also held to be a therapeutic for asthma, high blood pressure, osteoporosis and sinusitis. See how to do the Bridge Pose.
Find out which vitamins are right for you.
Everyone's dietary needs are different based on a number of factors including lifestyle, diet, medications and more. To find out
what vitamins you need
, take the
Weil Vitamin Advisor
. This 3-step questionnaire requires just minutes to complete, and generates a free, no-obligation vitamin and nutritional supplement recommendation that is personalized to meet your unique nutritional needs.
It's the Journey Not the Destination
Make each day count, with an outlook that both serene and inspired. Dr. Weil's website, SpontaneousHappiness.com, has everything you need to get on the path to emotional well-being. From articles and checklists to exclusive videos featuring Dr. Weil, we can help you make each day a little brighter. Learn more – visit today.