Tilapia: An Unhealthy Choice?
Published: 03/01/2014
Learn More:
British Columbia Garden - Part 3
Related:
Dr. Weil Videos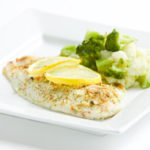 Farm-raised tilapia is one of the most commonly consumed fish in America, yet it has very low levels of beneficial omega-3 fats compared to its content of omega-6 fatty acids. Omega-6's are essential, but the American diet typically includes far too much of this kind of fat. An overabundance of dietary omega-6 is pro-inflammatory, and inflammation is a key contributor to many chronic health conditions.
Tilapia is not necessarily unhealthy, but Dr. Weil recommends reaching for the best fish of all – wild-caught Alaskan salmon. It has an impressive omega-3 to omega-6 fatty acid ratio and is a species associated with fewer concerns about environmental toxins. While it is more expensive than tilapia, it is a worthy investment in your health (omega-3 fatty acids help to promote mental and physical well-being) that can reap dividends for the future.
Find out which vitamins are right for you.
Everyone's dietary needs are different based on a number of factors including lifestyle, diet, medications and more. To find out
what vitamins you need
, take the
Weil Vitamin Advisor
. This 3-step questionnaire requires just minutes to complete, and generates a free, no-obligation vitamin and nutritional supplement recommendation that is personalized to meet your unique nutritional needs.
Vital Choice Wild Seafood & Organics
Vital Choice's wild Alaskan salmon is recommended by Dr. Weil because of its rich nutritional content and exceptional taste. As the leading source for fast home delivery of the world's finest wild seafood, whole-food supplements, and fine organic fare, Vital Choice is committed to serving the best. Quality foods that are the purest available and always sustainably harvested. Shop Vital Choice now – and sign up for Vital Choices, our free e-newsletter with up-to-the-minute health news, recipes, and exclusive special offers.