Should Kids Take Vitamins?
Published: 08/18/2014
Learn More:
Are We Getting Taller?
Related:
General Health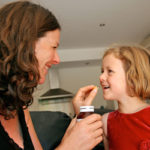 This tip is courtesy of the new, improved Weil Vitamin Advisor. Visit today for your free, personalized supplement recommendation!
I am often asked whether children should take vitamins. The answer is yes, I believe the evidence is clear that most children will benefit from an antioxidant and multi-mineral formula. Many kids don't eat enough vegetables and fruits, and their diets are often full of processed and refined foods. However, vitamin supplements shouldn't be substitutes for whole foods, and children need a full complement of healthy fats, slow-digesting carbohydrates and body building proteins.
You can help encourage a healthy diet by eating meals together, focusing on whole, fresh foods, and discouraging your children from eating too much fast food, processed food, sugar and caffeine (in cola and other drinks).
As far as supplements are concerned, give children a complete antioxidant formula as well as multiminerals. Try to find versions that do not have a lot of excess sugar, small tablets if they can be swallowed, or powders that can be blended into a smoothie. Be sure to keep the vitamins out of the reach of young children – some supplements for kids taste and look like candy and there is a danger of overdosing, especially when supplements contain iron.
Find out which vitamins are right for you.
Everyone's dietary needs are different based on a number of factors including lifestyle, diet, medications and more. To find out
what vitamins you need
, take the
Weil Vitamin Advisor
. This 3-step questionnaire requires just minutes to complete, and generates a free, no-obligation vitamin and nutritional supplement recommendation that is personalized to meet your unique nutritional needs.
TOP PICKS
WE RECOMMEND


Children's Health Center
Contrary to popular belief, children are not small adults; they have unique physical, mental and spiritual needs.
Read More

WE RECOMMEND


Vitamin Library
Use this section to learn more about individual vitamins and minerals; why they are necessary, the best food sources, the correct dosage, and more.
Learn More

ASK. DR. WEIL


Are We Getting Taller?
I know we're getting fatter, but I've heard that each generation of humans grows taller than the last. Is this true?
See Answer

TODAY'S HEALTH TOPIC


Alpha-Lipoic Acid (ALA)
Alpha-Lipoic Acid is vital to cellular energy production, and helps to neutralize the damage caused by free radicals.
Read More
What's In Your Supplements?
Many vitamins and supplements contain fillers, casings and binders that may hinder absorption. The vitamins and supplements in the Weil Vitamin Advisor use only the highest quality, readily absorbable ingredients, with instructions on how to get the most out of each selection. Visit today for your free supplement plan.
YESTERDAY'S TIP
Wondering How to Use Witch Hazel?
Rubbing witch hazel on your skin is an inexpensive, natural way to treat a variety of minor ailments. Learn what to use it for, and how to use it properly.