Nutrition Makeover Part 1: Eat This Food
Published: 02/01/2014
Learn More:
An Adventurous Life - Dr. Weil's Story
Related:
Dr. Weil Videos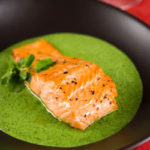 Make your healthy nutrition resolutions last in 2014 with our weekly "Nutrition Makeover" suggestions! Each Saturday in February, we will introduce foods that Dr. Weil recommends as basic and essential for vibrant health. Once you add them to your diet, keep with it! Soon, preparing and eating them will become second nature – you'll feel the difference, head to toe.
This week add two servings of salmon or other sources of omega-3 fatty acids. Omega-3s appear to help lower the risk of heart attack, stroke, cancer, inflammatory diseases like rheumatoid arthritis, and more. Look for fresh or frozen wild Alaskan salmon or canned sockeye, sardines packed in water or olive oil, herring, and black cod (also known as sablefish and butterfish). You can also supplement with high-quality fish oil – the Weil Vitamin Advisor can provide more information. And while non-fish sources of these essential fatty acids are significantly less potent, don't let that keep you from including omega-3-fortified eggs, flaxseeds (freshly ground) and walnuts in your diet.
Find out which vitamins are right for you.
Everyone's dietary needs are different based on a number of factors including lifestyle, diet, medications and more. To find out
what vitamins you need
, take the
Weil Vitamin Advisor
. This 3-step questionnaire requires just minutes to complete, and generates a free, no-obligation vitamin and nutritional supplement recommendation that is personalized to meet your unique nutritional needs.
Happiness: It's Just a Click Away
Especially when you have Dr. Weil guiding the way! Spontaneous Happiness has daily tools, weekly checklists, videos, recipes, and information all designed to help you achieve contentment and happiness – naturally. Start your free trial today, and save 25% when you join!