Noticing Age Spots?
Published: 04/29/2013
Learn More:
Can Gel Manicures Cause Cancer?
Related:
Cancer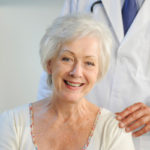 If you are noticing brown spots on your skin – up to an inch in diameter – you may have solar lentigos. These "age spots" are the result of years of sun exposure. Typically, they appear on the chest, face, or the back of the hands – areas of the skin that have been most exposed to the sun throughout your lifetime. The best ways to prevent age spots are to avoid sun exposure, especially sunbathing, and use sunscreen regularly (SPF 15 or higher). However, this won't help get rid of age spots you may already have. To reduce the appearance of age spots over time, see your physician or dermatologist. He or she can recommend a prescription or over-the-counter skin cream containing alpha-hydroxy or retinoic acid. If you use these, be diligent about applying sunscreen, since these creams can increase your skin's sensitivity to the sun's rays. Laser treatment is also an option; while this approach is more costly, it does offer immediate results. Even if your age spots are not a concern, it is advisable to see a dermatologist about them. Occasionally, what appear to be age spots are identified as precancerous lesions that should be removed for medical rather than cosmetic reasons.
Find out which vitamins are right for you.
Everyone's dietary needs are different based on a number of factors including lifestyle, diet, medications and more. To find out
what vitamins you need
, take the
Weil Vitamin Advisor
. This 3-step questionnaire requires just minutes to complete, and generates a free, no-obligation vitamin and nutritional supplement recommendation that is personalized to meet your unique nutritional needs.
Seeing Dark Spots? Dr. Weil has a bright solution.
UV damage? Post acne marks? Age spots? Before considering a derm or drastic measure, discover Dr. Andrew Weil for Origins™ Mega-Bright Skin tone correcting serum. Although it's not the same as a medical treatment, 92% saw a dramatic improvement in evenness of skin tone in just 4 weeks. And for all its potency – it's safe and gentle on all skin tones. For a limited time only, receive a free 1-week supply of Mega-Bright serum + free shipping with any Origins purchase. Use code MEGABRIGHT at checkout.