New Recipe: Bento Box Soup
Published: 09/20/2013
Learn More:
Does Body Shape and Weight Affect Memory?
Related:
Mental Health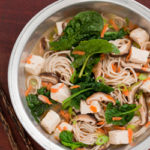 It's called Bento Box Soup because it's inspired by the traditional Japanese take-out bento box lunch, which is full of compartments, each containing a tasty treat: fish or meat, rice, pickled or cooked veggies, and other goodies. The base is a miso broth; if you're not in the know about miso, it's a salty fermented soy product that aids digestion and improves immune function.
Try this healthful soup today!
Find out which vitamins are right for you.
Everyone's dietary needs are different based on a number of factors including lifestyle, diet, medications and more. To find out
what vitamins you need
, take the
Weil Vitamin Advisor
. This 3-step questionnaire requires just minutes to complete, and generates a free, no-obligation vitamin and nutritional supplement recommendation that is personalized to meet your unique nutritional needs.
Want More Soup Suggestions?
Dr. Weil on Healthy Aging has what you need: from Curried Corn Bisque and Red Lentil Dal to Broccoli Chowder, we have over 300 recipes that follow the principles of the anti-inflammatory diet. That means great taste and healthy nutrition for you and your family! Try us out – start your 14-day free trial now and save 30% when you join