Is Plastic in The Microwave Harmful?
Published: 06/07/2014
Learn More:
Gardening in British Columbia and Arizona
Related:
Dr. Weil Videos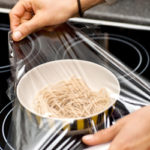 It's not uncommon to see people microwaving leftovers in plastic dishes, heating up meals in the plastic containers they come in, or placing plastic wrap over foods to protect the inside of a microwave from splatters. Is all this as innocent as it seems?
I don't think so. While plastic has many terrific uses, when it comes to cooking it should be avoided. DEHA [di-(2-ethylhexyl)adipate], sometimes found in cling wrap, and other chemicals commonly found in plastic are potential endocrine disruptors, and can negatively influence hormonal activity. While studies are underway to better define the health risks associated with plastics, it is best to steer clear of using plastic and plastic wrap in the microwave, as the heat can drive plastic molecules into your food. Instead, use glass or ceramic containers and cover foods with waxed paper or a paper towel. I also suggest avoiding pre-packaged foods that come in cling wrap (if you purchase such products, transfer these items to a different storage container once you get home).
Find out which vitamins are right for you.
Everyone's dietary needs are different based on a number of factors including lifestyle, diet, medications and more. To find out
what vitamins you need
, take the
Weil Vitamin Advisor
. This 3-step questionnaire requires just minutes to complete, and generates a free, no-obligation vitamin and nutritional supplement recommendation that is personalized to meet your unique nutritional needs.
Want a More Upbeat Life?
There's no reason to live a life that isn't positive and rewarding. Start living a more upbeat life with Spontaneous Happiness: our 8-week program can get your mood and outlook on the positive track with simple tips, expert guidance and member support. Start enjoying the fun that life offers: start your 10-day free trial today and save 25% when you join!