Is Napping Healthy?
Published: 06/13/2013
Learn More:
Betting on Weight Loss?
Related:
Diets & Weight Loss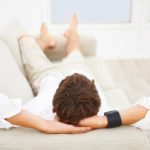 Each Thursday in June the Daily Tip will cover aspects of aging gracefully, courtesy of Dr. Weil on Healthy Aging.

Studies on sleep and the opinions of sleep experts are convincing: napping has value. People who nap generally enjoy better mental health and mental efficiency than people who do not. The quality of their nighttime sleep tends to be better as well. Unfortunately, finding opportunities to rest during daylight hours in our society is not so easy – the North American culture is actively opposed to the whole concept, bombarding us with stimulation in more and more places and times.
If you want to embrace the concept of napping – as many cultures worldwide do – consider the following:
Accept napping as a positive thing. Remind yourself frequently that napping can make a day more productive – it is actually the opposite of being lazy.
Do not fight the body's desire to nap. This will result in unpleasant or unproductive naps.
Take naps when you can. If your schedule does not permit a nap every day, consider taking productive naps as a passenger in cars, trains, and airplanes.
Consider time and duration. Napping for too long, too often, or at the wrong time of day can be counterproductive. See what length and schedule works best for you.
Napping can mean just taking a break. Lying on a hammock or just staring into space is the essence of rest – it is not doing that refreshes you in body and mind.
Find out which vitamins are right for you.
Everyone's dietary needs are different based on a number of factors including lifestyle, diet, medications and more. To find out
what vitamins you need
, take the
Weil Vitamin Advisor
. This 3-step questionnaire requires just minutes to complete, and generates a free, no-obligation vitamin and nutritional supplement recommendation that is personalized to meet your unique nutritional needs.
Sensitive to redness and irritation?
Get relief with Dr. Andrew Weil for Origins™ Mega Mushroom Collection. The award winning Mega-Mushroom Skin Relief Soothing Face Serum is clinically proven to help calm and soothe skin. Limited time offer. Enjoy 1-week supplies of Dr. Andrew Weil for Origins™ Mega-Mushroom serum and cleanser + free shipping with any $30 Origins.com purchase. Use code MUSHROOM at checkout.