Is "Ear Candling" Hazardous to Your Hearing?
Published: 07/15/2013
Learn More:
Avoid Avocados?
Related:
Nutrition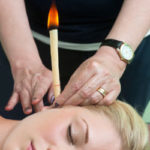 If you have wax buildup in your ear, there is a variety of effective methods to help remove it, but ear candling is not one of them. Also called ear coning, this practice involves inserting a hollow cone made of a cotton sheet that's been coated with beeswax into your ear. Someone else lights the other, wider end of the cone, in the hopes that as the flame burns, a vacuum will be created that draws the wax from the ear. When the flame goes out, there may be a dark residue on the remaining paper, but it is not removed earwax – it's a mixture of combustion products from the burned paper.
Instead of engaging in a practice that doesn't work and carries the risk of burned skin, I suggest removing excess earwax with one of the many over-the-counter products available for this – they're usually very effective. If you've got a buildup of wax that is interfering with your hearing, a physician can flush it out with water directed into the ear with a specially designed syringe after using drops to soften the wax. Don't clean your ears with cotton swabs or put anything else in your ear. It's possible to push wax deeper into the ear canal and even injure your eardrum.
Find out which vitamins are right for you.
Everyone's dietary needs are different based on a number of factors including lifestyle, diet, medications and more. To find out
what vitamins you need
, take the
Weil Vitamin Advisor
. This 3-step questionnaire requires just minutes to complete, and generates a free, no-obligation vitamin and nutritional supplement recommendation that is personalized to meet your unique nutritional needs.
Sensitive to redness and irritation?
Get relief with Dr. Andrew Weil for Origins™ Mega Mushroom Collection. The award winning Mega-Mushroom Skin Relief Soothing Face Serum is clinically proven to help calm and soothe skin. Enjoy 1-week supplies of Dr. Andrew Weil for Origins™ Mega-Mushroom serum and cleanser + free shipping with any $30 Origins.com purchase. Use Code MUSHROOM at checkout.