Is Coconut Oil Healthy?
Published: 07/11/2013
Learn More:
What's That Urine Smell From Asparagus?
Related:
General Health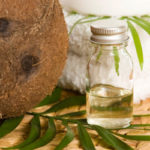 I am increasingly persuaded that consuming modest amounts of natural saturated fats such as virgin coconut oil is not hazardous, although some controversy still persists. However, using cosmetic products containing coconut oil is another story – there is widespread agreement that such products are safe and effective.
Although I prefer skin care products with natural anti-inflammatory activity, some components of coconut oil have been studied for their benefits to both skin and hair. The lauric acid found in coconut oil is available in a wide variety of skin and hair care products, including body and facial cleansers, soap and sunscreens. Clinical research supports the safety of these products in general, and the utility of coconut oil to help moisturize skin in particular. Try them!
Find out which vitamins are right for you.
Everyone's dietary needs are different based on a number of factors including lifestyle, diet, medications and more. To find out
what vitamins you need
, take the
Weil Vitamin Advisor
. This 3-step questionnaire requires just minutes to complete, and generates a free, no-obligation vitamin and nutritional supplement recommendation that is personalized to meet your unique nutritional needs.
Sensitive to redness and irritation?
Get relief with Dr. Andrew Weil for Origins™ Mega Mushroom Collection. The award winning Mega-Mushroom Skin Relief Soothing Face Serum is clinically proven to help calm and soothe skin. Enjoy 1-week supplies of Dr. Andrew Weil for Origins™ Mega-Mushroom serum and cleanser + free shipping with any $30 Origins.com purchase. Use Code MUSHROOM at checkout.