How to Choose the Healthiest Candles
Published: 11/13/2013
Learn More:
Iodine
Related:
Vitamin Library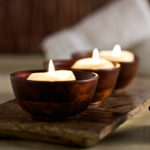 Burning candles is a convenient, inexpensive way to add ambience, calm and serenity to a home or office throughout the year. Their warm, soothing touch creates an inviting and comforting atmosphere. For everyday indoor use, you should opt for unscented candles. Some researchers note that unscented candles create less soot than scented varieties – over time this soot can accumulate in lungs and cause respiratory problems. Scented candles may also contribute to indoor pollution. I suggest candles made of unscented beeswax, which is just as beautiful and cozy as artificially scented varieties.
Find out which vitamins are right for you.
Everyone's dietary needs are different based on a number of factors including lifestyle, diet, medications and more. To find out
what vitamins you need
, take the
Weil Vitamin Advisor
. This 3-step questionnaire requires just minutes to complete, and generates a free, no-obligation vitamin and nutritional supplement recommendation that is personalized to meet your unique nutritional needs.
The Dr.Weil for Origins™ Skincare Gift Set is Here!
Get 4 soothing skin relief treats for $70 (a $125 value). Includes Dr. Andrew Weil for Origins™ Mega-Mushroom face serum, cleanser, treatment lotion, and face cream. Plus, it ships free! Get one today, limited supply available. Shop Origins.com.