Hot Flashes Interrupting Your Life?
Published: 09/17/2013
Learn More:
Which Vegetable Protein Is Best?
Related:
Nutrition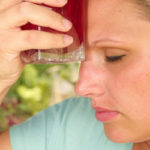 Hot flashes associated with menopause can be miserable, but in most cases, fortunately, they do go away on their own, usually within six months to a year. With the popularity of hormone replacement therapy (HRT) on the wane, these two alternative remedies may be worth a try:
Black cohosh. Used in Europe for more than 40 years, this herb may help moderate hot flashes, mood swings and insomnia, and has proven to be effective in several studies. For relief of menopausal symptoms, especially hot flashes, begin taking 20 mg twice a day for six weeks, then try increasing the dose to 40 mg twice per day if hot flashes do not decrease in severity or intensity. Although early evidence was mixed, black cohosh does not appear to have direct estrogenic effects, and women with a history of breast cancer can safely use it.
Whole soy foods. As you may know, soy foods contain plant estrogens, and Japanese women whose diets contain soy experience fewer hot flashes. Although we continue to investigate the role of soy (other elements of the Japanese diet and lifestyle may play a part), adding soy to your diet may help. I suggest two helpings daily of whole soy foods such as tofu, tempeh, edamame (green soy beans in the pod) and miso.
For more healthful aging information, including women-specific suggestions, start your 14-day free trial of Dr. Weil on Healthy Aging now.
Find out which vitamins are right for you.
Everyone's dietary needs are different based on a number of factors including lifestyle, diet, medications and more. To find out
what vitamins you need
, take the
Weil Vitamin Advisor
. This 3-step questionnaire requires just minutes to complete, and generates a free, no-obligation vitamin and nutritional supplement recommendation that is personalized to meet your unique nutritional needs.
Lower Your Blood Pressure Naturally
RESPeRATE™ is the first medical device clinically proven to lower blood pressure with no side effects. This revolutionary device harnesses the power of breathing to lower blood pressure naturally. Featured in Mayo Clinic's "On High Blood Pressure," Doctor Recommended.