Holiday Recipe: Tart Cherry-Apple Crunch
Published: 11/15/2013
Learn More:
Low Calorie Thanksgiving?
Related:
Cooking & Cookware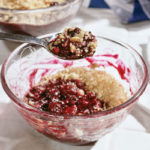 There is no better start to a dessert than with plump, tart cherries and apples. And the walnuts in here add not only a crunchy texture, they also contribute healthful omega-3 fatty acids.
Food as Medicine
The insoluble fiber in apples attaches to LDL cholesterol in the digestive tract and removes it from the body; adding one large apple to the daily diet has been shown to reduce serum cholesterol by up to 11 percent.
Try this dessert today!
Find out which vitamins are right for you.
Everyone's dietary needs are different based on a number of factors including lifestyle, diet, medications and more. To find out
what vitamins you need
, take the
Weil Vitamin Advisor
. This 3-step questionnaire requires just minutes to complete, and generates a free, no-obligation vitamin and nutritional supplement recommendation that is personalized to meet your unique nutritional needs.
It's Easy Being Happy
Especially when you have Dr. Weil guiding the way! SpontaneousHappiness.com is the online 8-week plan with daily tools, weekly checklists, videos, recipes, and information all designed to help you achieve contentment and happiness – naturally. Start your 10-day free trial today and save 25% when you join!