Healthy Showdown: Butter Versus Margarine
Published: 02/19/2014
Learn More:
Coenzyme Q10 (CoQ10)
Related:
Vitamin Library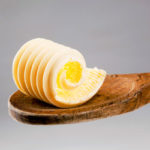 When it comes to spreads for your bread, I am a longtime proponent of extra virgin olive oil. Its heart-healthy fats are a much better choice than margarine. Margarine was originally developed as a cheap substitute for butter, and has evolved from some fairly unappealing animal-based ingredients into a vegetable-oil based spread with added chemicals that make it more flavorful and easier to spread. To achieve that solid, spreadable consistency, margarine manufacturers add hydrogenated vegetable oil, creating unhealthy compounds that may contribute to heart disease and stroke. In addition, the heat and chemicals used to harden vegetable oils produce trans-fatty acids (TFAs), which can contribute to heart disease, increase cancer risks, promote inflammation and accelerate tissue degeneration.
Butter is definitely the better choice. In fact, some recent studies suggest that natural saturated fats, such as those found in butter, may not significantly contribute to cardiovascular disease, though further study is warranted. In any case, butter is closer to a whole food than margarine. If you must opt for a spread that is not extra virgin olive oil, I suggest moderate amounts of natural, organic butter.
Find out which vitamins are right for you.
Everyone's dietary needs are different based on a number of factors including lifestyle, diet, medications and more. To find out
what vitamins you need
, take the
Weil Vitamin Advisor
. This 3-step questionnaire requires just minutes to complete, and generates a free, no-obligation vitamin and nutritional supplement recommendation that is personalized to meet your unique nutritional needs.
Your Online Anti-Inflammatory Diet Guide
Dr. Weil's recommended anti-inflammatory diet is here! Only on Dr. Weil on Healthy Aging will you find exclusive how-to cooking videos and shopping guides, interactive tools, over 300 recipes, seasonal food lists and more. Start eating and enjoying the anti-inflammatory diet today – begin your 14-day free trial and save 30%!