Healthy Salad: Red Potato Salad
Published: 05/17/2013
Learn More:
Did Angelina Jolie Do the Right Thing?
Related:
Cancer, Breast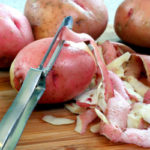 Potato salad isn't just for picnics – this sophisticated version can be used as a side dish for even the fanciest meal. Instead of mayonnaise, we use mustard and wine combined with vinegar and a moderate amount of olive oil. The result is a sharply flavored mix for the potatoes. Small red potatoes – also called new potatoes – are better suited for this dish because they have a firmer texture after boiling than the commonly used russets or baking potatoes. Remember to remove any sprouts before cooking. If you find very small red potatoes, you can leave the skin on and cut them in half.
Food as Medicine
An analysis by the USDA's Agricultural Research Service found that the levels of phenolic compounds (which provide antioxidant protection and other health benefits) in red potatoes rivals the levels found in some vegetables that are traditionally regarded as nutritional powerhouses, including broccoli, spinach and Brussels sprouts.
Find out which vitamins are right for you.
Everyone's dietary needs are different based on a number of factors including lifestyle, diet, medications and more. To find out
what vitamins you need
, take the
Weil Vitamin Advisor
. This 3-step questionnaire requires just minutes to complete, and generates a free, no-obligation vitamin and nutritional supplement recommendation that is personalized to meet your unique nutritional needs.
Foods for Health
From "10 Vegetables You Need in Your Kitchen" to hundreds of recipes and monthly Seasonal Food lists, Dr. Weil on Healthy Aging has everything you and your family need to eat healthfully – and enjoy it! Sign up for your 14-day free trial today and check out our exclusive version of Dr. Weil's Anti-Inflammatory Food Pyramid, eating and shopping guides, and more!