Healthy Resolution: Getting Your Zzzzzz's
Published: 01/21/2014
Learn More:
New Cholesterol Guidelines for Statins?
Related:
Heart Health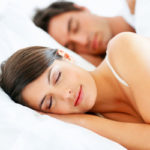 Each Tuesday in January we present healthy resolutions for the New Year. Consider including them in your healthful lifestyle routine!
Rest is as important as physical activity for general health. Identify periods during the day when you can be passive, without stimulation, doing nothing, and make time for them. Consider the following when planning rest into your schedule:
Try to get into the habit of napping: ten to twenty minutes in the afternoon, preferably lying down in a darkened room.
Spend some time outdoors as often as you can to get exposure to bright, natural light. If you are concerned about harmful effects of solar radiation, do it before ten in the morning or after three in the afternoon and use sunscreen.
Try to give yourself about an hour in dim light before you go to sleep at night. Lower the lighting in your house and bedroom. If other members of the household object, wear sunglasses.
Avoid screen time within the hour before sleep and make your bedroom as dark as possible while sleeping.
Pay attention to sleep hygiene. Consider all the details of lifestyle, including intake of caffeine and bedroom design, that affect the quality of sleep. When you are ready to go to sleep, try to keep your bedroom completely dark.
Dr. Weil's website Spontaneous Happiness has an entire section devoted to getting better rest – start your 10-day free trial now and save 25% when you join!
Find out which vitamins are right for you.
Everyone's dietary needs are different based on a number of factors including lifestyle, diet, medications and more. To find out
what vitamins you need
, take the
Weil Vitamin Advisor
. This 3-step questionnaire requires just minutes to complete, and generates a free, no-obligation vitamin and nutritional supplement recommendation that is personalized to meet your unique nutritional needs.
Lower Your Blood Pressure Naturally
RESPeRATE™ is the first medical device clinically proven to lower blood pressure with no side effects. This revolutionary device harnesses the power of breathing to lower blood pressure naturally. Featured in Mayo Clinic's "On High Blood Pressure," Doctor recommended.