Healthy Recipe: Salmon in Parchment
Published: 01/31/2014
Learn More:
Best Bet for Breast Cancer Survivors?
Related:
Cancer, Breast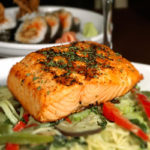 Salmon, like other oily fish (herring, sardines, mackerel), is rich in omega-3 fatty acids that reduce inflammation, protect against heart attacks, and possibly reduce one's chances of developing cancer. I recommend two to three servings a week of salmon or another oily fish rich in omega-3s per week. When you want something out of the ordinary, this is an easy and elegant recipe to try. It requires cooking parchment, which you will find in rolls or sheets at kitchen-supply stores and even many supermarkets. Parchment-wrapped food turns into taut packages as steam inflates the sealed pouches. (Be careful when slitting them open to avoid being burned.) The result is a delicate mix of textures and aromas that's sure to please.
Food as Medicine
Eating fish such as salmon as little as one to three times monthly may protect against ischemic stroke (a type of stroke caused by lack of blood supply to the brain, due to a clot or other factors), according to a meta-analysis of eight studies published in the July, 2004 issue of the journal Stroke.
Learn how to make this recipe!
Find out which vitamins are right for you.
Everyone's dietary needs are different based on a number of factors including lifestyle, diet, medications and more. To find out
what vitamins you need
, take the
Weil Vitamin Advisor
. This 3-step questionnaire requires just minutes to complete, and generates a free, no-obligation vitamin and nutritional supplement recommendation that is personalized to meet your unique nutritional needs.
Vital Choice Wild Seafood & Organics
Vital Choice's wild Alaskan salmon is recommended by Dr. Weil because of its rich nutritional content and exceptional taste. As the leading source for fast home delivery of the world's finest wild seafood, whole-food supplements, and fine organic fare, Vital Choice is committed to serving the best. Quality foods that are the purest available and always sustainably harvested. Shop Vital Choice now – and sign up for Vital Choices, our free e-newsletter with up-to-the-minute health news, recipes, and exclusive special offers.