Healthy Recipe: French Bean Salad
Published: 01/24/2014
Learn More:
Is Buying Mother's Breast Milk Dangerous?
Related:
Babies & Toddlers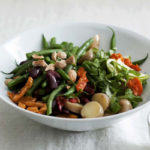 A True Food Kitchen exclusive! As True Food Kitchen chef Michael Stebner says, "Here's a variation of a dish my mother used to make when I was growing up in Oregon, with a vegetarian Caesar dressing created by Andy's daughter, Diana. Talk about a collaboration! As always, freshness and seasonality are the keys to the success of this dish. It's best when made a few hours in advance and served chilled. Try it tossed with romaine leaves, croutons, fresh-cracked pepper and some Parmigiano-Reggiano shavings.
Food as Medicine
Along with abundant anti-inflammatory flavonoids including quercetin and kaemferol, green beans are good sources of the mineral silicon. While not as widely known as other nutritive minerals, silicon is essential for strong bones and healthy connective tissue. Keeping cooking times brief – as they are in this recipe – helps to preserve nutrient levels.
Find out which vitamins are right for you.
Everyone's dietary needs are different based on a number of factors including lifestyle, diet, medications and more. To find out
what vitamins you need
, take the
Weil Vitamin Advisor
. This 3-step questionnaire requires just minutes to complete, and generates a free, no-obligation vitamin and nutritional supplement recommendation that is personalized to meet your unique nutritional needs.
8 Weeks to a More Balanced Life!
If procrastination, too many commitments, or just having difficulty saying "no" is part of your life, we can help. Spontaneous Happiness is an 8-week online plan with everything you need to create some balance in your life. Exclusive tools, videos and guides can help you contain the chaos and achieve balance. Start your 10-day free trial now and save 25% when you join!