Healthy Joints Part 2: Lifestyle Tips
Published: 06/11/2013
Learn More:
Does Mother's Smoking Lead to Obese Kids?
Related:
Pregnancy & Fertility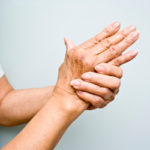 Being active is part of an optimal lifestyle, and there are simple steps you can take to help protect your joints from the normal wear and tear of everyday activities. In addition to following an anti-inflammatory diet and prudent supplementation, consider these simple strategies:
Maintain a healthy weight. Losing just a few pounds can alleviate excess mechanical stress on joints.
Avoid intense activities that can injure or strain the joint cartilage.
Get exercise. Performed at a level that does not stress joints, daily physical activity is the key to maintaining lifelong mobility – it strengthens surrounding muscles that support and protect joints. Swimming, stationary cycling and light weight training are good choices, as are stretching and balance exercises such as yoga and tai chi.
Find out which vitamins are right for you.
Everyone's dietary needs are different based on a number of factors including lifestyle, diet, medications and more. To find out
what vitamins you need
, take the
Weil Vitamin Advisor
. This 3-step questionnaire requires just minutes to complete, and generates a free, no-obligation vitamin and nutritional supplement recommendation that is personalized to meet your unique nutritional needs.
The Healthiest Cooking Method Made Easy!
The Dr. Weil Healthy Kitchen Electronic Food Steamer features a two-level operation that makes your whole meal preparation a snap. An automatic timer and stay-warm feature make steaming foods easier than ever. Learn more…