Healthy Holiday Recipe: Squash Pie
Published: 11/01/2013
Learn More:
Can Brain Exercise Really Keep You Sharp?
Related:
Aging Gracefully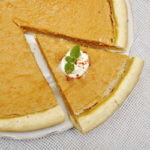 The glowing colors and the smooth texture of cooked winter squash are evocative of winter feasts, home and the holidays. These sturdy gourds have been around since long before the Pilgrims shared their first Thanksgiving with Native Americans. Squash is believed to have been eaten as long ago as 5,500 BC. The winter squash family boasts a bewildering number of varieties, from acorn to Hubbard, the most recognizable of which is probably the pumpkin. But despite great differences in shape, size and the external color of their hard skins, most can be treated the same in the kitchen – baked, pureed, or as a component of soups and stews. Perhaps best of all is the rich nutritional value they have in common. Beta-carotene, potassium and fiber are just some of their most notable assets. With a nutty and often sweet taste and a smooth texture, winter squash is good and good for you.
Try Squash Pie this holiday season!
Find out which vitamins are right for you.
Everyone's dietary needs are different based on a number of factors including lifestyle, diet, medications and more. To find out
what vitamins you need
, take the
Weil Vitamin Advisor
. This 3-step questionnaire requires just minutes to complete, and generates a free, no-obligation vitamin and nutritional supplement recommendation that is personalized to meet your unique nutritional needs.
Natural Healing Orthotic Shoes
While you're on your feet this holiday season, relieve pain and help prevent aches with Orthaheel. Podiatrist-designed technology is built right into the footbed of each shoe, taking you where you want to go – naturally aligned and in comfort all year long. To learn more, visit www.orthaheelusa.com.