Healthy Holiday Recipe: Roasted Root Vegetables
Published: 11/08/2013
Learn More:
Do Your Genes Make You Fat?
Related:
General Health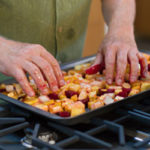 Root vegetables (with the exception of potatoes and carrots) are some of the most overlooked and underappreciated foodstuffs around. But these nutritional storehouses are hidden treasures worthy of your notice. Not only are they available in winter when other vegetables are hard to find, but they are also very inexpensive. Experiment with turnips, rutabagas, beets and parsnips, and learn what they have to offer in taste and versatility. Rutabaga (also known as swede) is an accidental vegetable – the result of a chance hybridization of turnips and cabbage. Like carrots, they're low in sodium and high in vitamin C. The flavor of all root vegetables will be enhanced by selecting fresh, firm produce (preferably organically grown) and storing it carefully. Turnips and potatoes should be stored in a cool, dark place out of the refrigerator. The rest of these roots will keep well in the refrigerator for at least a week.
Try Roasted Root Vegetables as part of a delicious meal!
Watch Dr. Weil prepare Roasted Root Vegetables in his home kitchen.
Find out which vitamins are right for you.
Everyone's dietary needs are different based on a number of factors including lifestyle, diet, medications and more. To find out
what vitamins you need
, take the
Weil Vitamin Advisor
. This 3-step questionnaire requires just minutes to complete, and generates a free, no-obligation vitamin and nutritional supplement recommendation that is personalized to meet your unique nutritional needs.
Dr. Weil Recommends MegaFood
Dr. Weil recommends a daily multi-vitamin to support a healthy metabolism and energy levels. Try a MegaFood Whole Food Multi-Vitamin with this exclusive $10.00 off offer.