Gluten-Free Vegan Brownies
Published: 11/30/2013
Learn More:
Cell Phone Tower Threat?
Related:
Technology & Health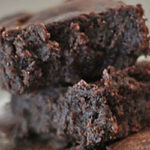 These brownies are a delicious, healthy, high-fiber indulgence. Vegans and omnivores will enjoy their rich flavor.
Food as Medicine
Soy foods may be helpful in alleviating symptoms of menopause. Soy is also high in calcium, which can help slow the accelerated bone loss many women experience as they grow older.
Find out which vitamins are right for you.
Everyone's dietary needs are different based on a number of factors including lifestyle, diet, medications and more. To find out
what vitamins you need
, take the
Weil Vitamin Advisor
. This 3-step questionnaire requires just minutes to complete, and generates a free, no-obligation vitamin and nutritional supplement recommendation that is personalized to meet your unique nutritional needs.
Brush Creek Organic Foods – Certified Organic Golden Flaxseed
An amazing gluten-free grain with the perfect balance of omega 3, 6 & 9 fatty acids. Consumption of ground flaxseed on a daily basis may help support heart, brain, prostate, breast, immune and joint health. Check out research studies of this and cooking recipe ideas such as using flaxseed as a substitute for eggs and butter or as a great nutty tasting topping over yogurt, cereal, salads, smoothies & more at www.bcof.com. "Where health comes first."