Dry and Cracked Heels Embarrassing You?
Published: 08/31/2013
Learn More:
Gestational Diabetes
Related:
Condition Care Guide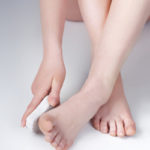 Dry and cold weather, prolonged standing and walking, and some types of footwear such as flip flops and other open-heeled shoes can all create cracks (also known as "fissures") in the skin of your heels. These simple, protective steps can help prevent further damage and promote healing:
Exfoliate. Use a wet pumice stone in the shower and gently rub your heels and calluses. This will help reduce the thickness of the calluses and allow lotions to better penetrate these areas.
Moisturize. Moisturizers can help resolve most small fissures, but if you have serious cracks, look for a product designed for feet and heels that has glycolic and/or salicylic acids, which may provide deeper penetration of the skin. Slather it on before bed, and then cover your feet with a pair of cotton socks.
Choose appropriate footwear. Open-backed shoes such as flip-flops allow the skin in the heel area to expand and crack. Opt for closed-back shoes at least until your feet heel.
Find out which vitamins are right for you.
Everyone's dietary needs are different based on a number of factors including lifestyle, diet, medications and more. To find out
what vitamins you need
, take the
Weil Vitamin Advisor
. This 3-step questionnaire requires just minutes to complete, and generates a free, no-obligation vitamin and nutritional supplement recommendation that is personalized to meet your unique nutritional needs.
A Healthy You, Head-to-Toe(s)
Want Dr. Weil's suggestions for your ailments? Join Dr. Weil on Healthy Aging for access to an exclusive version of the interactive Dr. Weil's Head-to-Toe Wellness Guide! It includes links to recipes using the recommended foods, along with in-depth suggestions on supplements, lifestyle and nutrition choices. Start your 14-day free trial now, and save 30% when you join!