Are Your Vitamins Effective?
Published: 07/18/2013
Learn More:
Gerson Therapy: Coffee, Juice and Cancer?
Related:
Cancer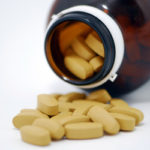 "Vitamins Don't Work" articles seem to reappear in national news outlets every couple of years or so. These stories usually state that although more than half of Americans take supplements, there is little or no evidence that they actually improve health or help to lower the risk of chronic disease. But the fact is, the studies on which these articles are based are often flawed: they may use inferior vitamins, get cut short before benefits can manifest, use poor screening methods to find the right study subjects, or be plagued by complicating factors such as members of the placebo group beginning to take vitamins independently.
In my view, the value of antioxidant vitamins has been scientifically demonstrated beyond any reasonable doubt. A proper supplement routine – in addition to a healthy diet and regular exercise – can indeed help promote optimal health.
Find out which vitamins are right for you.
Everyone's dietary needs are different based on a number of factors including lifestyle, diet, medications and more. To find out
what vitamins you need
, take the
Weil Vitamin Advisor
. This 3-step questionnaire requires just minutes to complete, and generates a free, no-obligation vitamin and nutritional supplement recommendation that is personalized to meet your unique nutritional needs.
Are You Taking Quality Vitamins?
What may seem like a bargain on the shelf may not deliver, especially if the brands you choose use inexpensive binders and other inferior ingredients. Make sure your body absorbs what it should with the high-quality supplements from The Weil Vitamin Advisor. Get your personalized recommendation today – visit now!