Are You At Risk For Plantar Warts?
Published: 05/09/2013
Learn More:
Sucking Babies' Pacifiers for Allergy Prevention?
Related:
Allergy & Asthma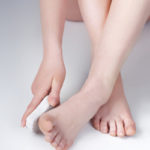 Anyone who has experienced plantar warts knows what a nuisance they can be. Caused by the human papilloma virus (HPV), they appear on the bottoms of feet as small, fleshy bumps; hard, flat growths with a rough surface and well-defined boundaries; or gray or brown lumps with tiny pinprick-size black dots.
To help avoid getting plantar warts, avoid areas known to harbor the virus, including warm, moist places such as shower floors, locker rooms and public swimming pools. Always wear shower flip-flops or sandals when you use a public locker room or shower, use foot powders and change your socks often to keep feet dry.
To treat plantar warts, you have a number of options:
Leave them alone. Most will disappear without treatment, sooner or later.
Try a "paint on" solution. Look for an over-the-counter treatment containing a 40 percent salicylic acid, and apply once or twice a day for a few weeks.
Try the "duct tape treatment." Simply cover the warts with duct tape for six days then soak in water and rub gently with an emery board or pumice stone. You may have to repeat the process over the course of a month or two before the warts disappear, but a study published in the Archives of Pediatrics and Adolescent Medicine found that the duct tape method worked better than having a doctor freeze the warts off with liquid nitrogen, which can be painful and cause scarring.
Try visualization. I recommend spending a few minutes each day picturing the growths shrinking. If you need help coming up with images, you can listen to audiotapes made by practitioners skilled in guided imagery and clinical hypnosis. It may be most effective to do this when waking and falling asleep. This mind-over-matter method can work remarkably well, so try it first, before resorting to acids, duct tape, lasers, or surgery.
For more information, visit the Condition Care Guide on DrWeil.com.
Find out which vitamins are right for you.
Everyone's dietary needs are different based on a number of factors including lifestyle, diet, medications and more. To find out
what vitamins you need
, take the
Weil Vitamin Advisor
. This 3-step questionnaire requires just minutes to complete, and generates a free, no-obligation vitamin and nutritional supplement recommendation that is personalized to meet your unique nutritional needs.
Natural Healing Orthotic Sandals
Dr. Weil recommends footwear and orthotic insoles incorporating Orthaheel technology, a science-based platform that can help relieve common foot, ankle and knee pain. Orthaheel's podiatrist-designed sandals provide natural support and comfort without compromising style. Visit Orthaheelusa.com today to see our NEW Spring sandal collection for women and men.