8 Reasons the French are Slim
Published: 10/29/2013
Learn More:
Halloween Candy - A Trick or a Treat?
Related:
Children's Health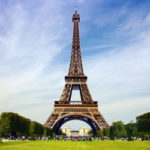 For years, scientists on both sides of the Atlantic have been trying to unravel the "French paradox" – the finding that despite a high-fat diet, the French appear to have a lower rate of heart attacks (as well as a lower rate of obesity) than other Western countries, particularly the United States. One major reason: nutrition researchers now feel that sugar, flour and oxidized vegetable oil (such as soybean oil used in processed foods and for deep-frying), and not natural saturated fats such as butter or lard, are the major drivers of obesity and heart disease in the U.S.
There may also be other reasons for this paradox. These eight tactics are the norm in the typical French diet – consider changing your approach toward eating by adopting these strategies and see if it makes a difference in your life:
Eat smaller portions.
Avoid snacking, and eat only at mealtimes.
Eat a wide variety of food.
Don't skip meals.
Enjoy your food and focus on dishes made from fresh, locally grown, quality ingredients.
Stick to your internal cues. When you no longer feel hungry, stop eating.
Eat less sugar. The French eat less than half as much added sugar as do Americans.
Eat meals with family and friends so that eating becomes a pleasurable experience as opposed to something to "fit into" a schedule or feel guilty about.
Find out which vitamins are right for you.
Everyone's dietary needs are different based on a number of factors including lifestyle, diet, medications and more. To find out
what vitamins you need
, take the
Weil Vitamin Advisor
. This 3-step questionnaire requires just minutes to complete, and generates a free, no-obligation vitamin and nutritional supplement recommendation that is personalized to meet your unique nutritional needs.
Lower Your Blood Pressure Naturally
RESPeRATE™ is the first medical device clinically proven to lower blood pressure with no side effects. This revolutionary device harnesses the power of breathing to lower blood pressure naturally. Featured in Mayo Clinic's "On High Blood Pressure," Doctor Recommended.