7 Guidelines for Healthy Aerobic Exercise
Published: 02/02/2014
Learn More:
Amazing Stone on the Coast of Japan
Related:
Dr. Weil Photo Galleries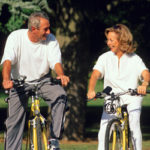 Last Sunday's Weekend Tip covered six ways to get more aerobic exercise. This week we provide some suggestions for making your aerobic workouts safe and effective.
Always warm up before you get into the full swing of aerobic activity. The best warm-up is a slowed-down version of the activity you are about to perform. For example, walk, run, or cycle in slow motion. You will see many people stretching as a warm-up, but this does not prepare muscles for aerobic exercise as well as slow movement does.
Give yourself a few minutes of cool-down at the end of the activity. Repeat the same movements in slow motion. This post-workout period is also the best time to stretch the muscles if you desire.
If you have never exercised, get a medical checkup before you start an exercise program. If you have a history of heart trouble or high blood pressure or a strong family history of such problems, a cardiac stress test may be in order.
Pay attention to your body! Discontinue exercise if you develop unusual aches or pains.
Stop exercising immediately if you develop dizziness, lightheadedness, fainting, chest pains, or difficulty breathing. Get a medical checkup promptly.
Your heart rate and breathing should return to normal within five to 10 minutes after the end of aerobic exercise. If they do not, get a medical checkup.
Do not exercise if you are sick. Wait until you feel better, then resume gradually. Don't worry about losing fitness; it will come back quickly enough. Strenuous exercise at the onset of illness can cause you to be sicker longer.
Find out which vitamins are right for you.
Everyone's dietary needs are different based on a number of factors including lifestyle, diet, medications and more. To find out
what vitamins you need
, take the
Weil Vitamin Advisor
. This 3-step questionnaire requires just minutes to complete, and generates a free, no-obligation vitamin and nutritional supplement recommendation that is personalized to meet your unique nutritional needs.
Orthaheel is now Vionic with Orthaheel Technology!
New year, new brand name, same great technology. Orthaheel and Dr. Andrew Weil Integrative Footwear are now a single brand – Vionic® with Orthaheel® Technology. While Vionic is a fresh idea on the outside, it's most prominent feature is the tried and true Orthaheel Technology on the inside. Vionic with Orthaheel Technology will offer an expanded range of styles with premium materials, refined classics and on-trend silhouettes, as well as classics such as the iconic Tide flip flop. Natural relief has never looked so good! Learn more at www.vionicshoes.com.