5 Warning Signs of Alzheimer's
Published: 09/04/2013
Learn More:
Alpha-Lipoic Acid (ALA)
Related:
Vitamin Library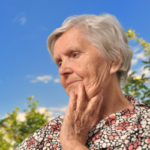 September is Healthy Aging Month – look for aging-related Daily Tips throughout September, brought to you by Dr. Weil on Healthy Aging.

Over 30 million people worldwide are living with Alzheimer's disease. Use this list to help to distinguish between the normal memory loss that accompanies aging and early signs of Alzheimer's disease. Talk with your physician if you or a family member is displaying any of these symptoms:
Memory loss that disrupts daily life. This common sign of Alzheimer's includes forgetting important dates, events and recently learned information, as well as repeatedly asking for the same information and relying on others for completion of previously routine tasks.
Planning and problem solving challenges. Common examples are taking a long time to complete familiar, simple tasks such as developing a plan, working with numbers, following directions (such as a recipe) or keeping track of monthly bills.
Familiar tasks become unfamiliar. It may be difficult to complete daily, routine tasks such as driving to a familiar location, reciting much-used phone numbers, or remembering the rules of favorite games.
Confusion about time or place. Losing track of dates, where you are or how you got there, and the general passage of time without recognition is a sign of Alzheimer's.
Trouble understanding visual images and spatial relationships. Difficulty reading, judging distance, determining color or contrast, and confusion as to what is reflected in a mirror may affect some people with Alzheimer's.
Don't miss tomorrow's Daily Tip, which discusses ways to help minimize Alzheimer's.
Find out which vitamins are right for you.
Everyone's dietary needs are different based on a number of factors including lifestyle, diet, medications and more. To find out
what vitamins you need
, take the
Weil Vitamin Advisor
. This 3-step questionnaire requires just minutes to complete, and generates a free, no-obligation vitamin and nutritional supplement recommendation that is personalized to meet your unique nutritional needs.
Vital Choice Wild Seafood & Organics
Vital Choice's wild Alaskan salmon is recommended by Dr. Weil because of its rich nutritional content and exceptional taste. As the leading source for fast home delivery of the world's finest wild seafood, whole-food supplements, and fine organic fare, Vital Choice is committed to serving the best. Quality foods that are the purest available and always sustainably harvested. Shop Vital Choice now – and sign up for Vital Choices, our free e-newsletter with up-to-the-minute health news, recipes, and exclusive special offers.