5 Supplements To Promote Energy
Published: 06/10/2014
Learn More:
Are Home Genetic Tests Worthwhile?
Related:
General Health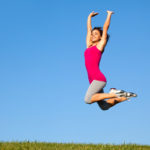 This tip is courtesy of the new, improved Weil Vitamin Advisor. Visit today for your free, personalized supplement recommendation!
If you feel worn down or are lacking energy due to a hectic schedule and day-to-day stressors, learn how to fight fatigue naturally. Taking a few minutes for yourself and performing simple breathing exercises can be helpful, as can daily moderate physical activity and getting adequate rest. Certain nutrients, botanicals and other compounds can also help to ward off or lessen the effects of general fatigue. Experiment with the following
Magnesium. Oral magnesium supplementation has been shown to help reduce symptoms of fatigue in persons with low magnesium levels. Look for magnesium citrate, chelate, or glycinate. Avoid magnesium oxide, which can be irritating. High doses can cause a laxative effect or diarrhea.
Eleuthero (Eleutherococcus senticosus or Acanthopanax senticosus), also known as Siberian ginseng. Studies show that eleuthero can help enhance mental activity as well as physical endurance.
Coenzyme Q10. This vital nutrient is involved in cellular energy production throughout the body.
Ashwagandha, an Ayurvedic herb prized for its ability to help the body deal with stress.
Cordyceps, a traditional Chinese medicinal mushroom that may help fight fatigue and boost energy levels.
Find out which vitamins are right for you.
Everyone's dietary needs are different based on a number of factors including lifestyle, diet, medications and more. To find out
what vitamins you need
, take the
Weil Vitamin Advisor
. This 3-step questionnaire requires just minutes to complete, and generates a free, no-obligation vitamin and nutritional supplement recommendation that is personalized to meet your unique nutritional needs.
Protecting Your Immune System
Do you know which supplements and herbs can help support and protect your immune system? Find out at the new Weil Vitamin Advisor. Learn how different vitamins can benefit your lifestyle and get a free recommendation based on your health history. Visit today!