5 Foods To Keep Your Heart Healthy
Published: 10/15/2013
Learn More:
Preparing Pumpkin?
Related:
Cooking & Cookware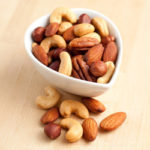 Adopting prudent lifestyle habits and eating a healthy diet are the best ways to achieve optimal health. You can help minimize risks of heart disease and promote a strong cardiovascular system by adding these anti-inflammatory foods to your diet:
Nuts, especially almonds, walnuts, cashews and macadamias contain heart-healthy monounsaturated fat. Eat a moderate portion of preferably raw or gently toasted nuts every day.
Whole soy protein. If you substitute whole soy protein, such as edamame or tofu, for animal protein each day, you can lower levels of homocysteine, a toxic amino acid linked to increased risk of heart disease.
Fresh garlic. This medicinal herb may help lower cholesterol levels. Use one or two raw or lightly cooked cloves a day.
Green tea. It provides EGCG, a polyphenol than may help to moderate inflammation and lower cholesterol. Substitute a cup of heart-healthy green tea for your morning coffee or afternoon soda.
Soluble fiber. It has a powerful cholesterol-lowering effect. Beans and legumes are good sources to add to your diet – aim for one or two servings per day.
Find out which vitamins are right for you.
Everyone's dietary needs are different based on a number of factors including lifestyle, diet, medications and more. To find out
what vitamins you need
, take the
Weil Vitamin Advisor
. This 3-step questionnaire requires just minutes to complete, and generates a free, no-obligation vitamin and nutritional supplement recommendation that is personalized to meet your unique nutritional needs.
Lower Your Blood Pressure Naturally
RESPeRATE™ is the first medical device clinically proven to lower blood pressure with no side effects. This revolutionary device harnesses the power of breathing to lower blood pressure naturally. Featured in Mayo Clinic's "On High Blood Pressure," Doctor Recommended.