4 Ways to Make Your Barbeque Healthier!
Published: 07/22/2013
Learn More:
Timing Meals for Weight Loss?
Related:
Diets & Weight Loss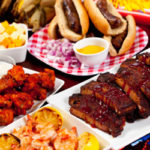 It's barbeque time! Use these simple ideas to make your outdoor cooking experience healthy as well as tasty:
Limit the quantity of processed meat you grill. Swap out the hotdogs for grass-fed meats, wild-caught fish or grilled vegetables.
Precook your foods in the oven or on the stovetop and finish them off outdoors – less grill time means fewer burned and blackened areas, which may promote cancer.
Marinate your meats. If you are grilling meats, use marinade – it may help reduce formation of carcinogenic compounds, especially if it's made with spices such as ginger, rosemary and turmeric.
Avoid using lighter fluid or self-starting packages of briquettes in a charcoal grill – they will leave residues of toxic chemicals in your food. A healthy alternative is an inexpensive chimney lighter that uses a small amount of newspaper to ignite a mass of charcoal in a large metal cylinder. Gas grills are good alternatives to those that use charcoal.
Get more healthy nutrition information when you join DrWeilonHealthyAging.com! Over 300 recipes, eating guides and seasonal food suggestions are just a click away – start your 14-day free trial now!
Find out which vitamins are right for you.
Everyone's dietary needs are different based on a number of factors including lifestyle, diet, medications and more. To find out
what vitamins you need
, take the
Weil Vitamin Advisor
. This 3-step questionnaire requires just minutes to complete, and generates a free, no-obligation vitamin and nutritional supplement recommendation that is personalized to meet your unique nutritional needs.
Enjoy the Benefit of Whole Grains
The Dr. Weil Healthy Kitchen Whole Grain Cooker uses smart technology to self-adjust to all types of rice grains for consistent cooking. This easy-to-use machine features an electronic timer with keep-warm and reheat functions. Learn more!