4 Reasons to Eat Pistachios
Published: 05/06/2013
Learn More:
GAPS Diet: How Good Is It?
Related:
Diets & Weight Loss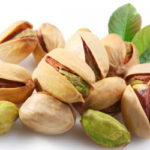 Pistachios, like most nuts, are a healthy snack when eaten in moderation, and their fat content can help stave off hunger pangs. If you need more reasons to pick up a bag of pistachios, consider this – pistachios:
May help reduce the risk of heart disease. They are rich in the amino acid arginine, phytosterols and unsaturated fat – all of which promote heart health.
Are a good source of polyphenol antioxidants, which protect against oxidative stress and inflammation.
May promote eye health. Pistachios have high levels of the carotenoids lutein and zeaxanthin, which can reduce the risk of age-related macular degeneration (AMD).
Provide fiber. One ounce of pistachios (about 47 nuts) has three grams of dietary fiber – more than a half-cup of spinach and the same amount as an orange or apple.
I recommend avoiding nuts that are dyed red or white (fortunately, these are rare nowadays), and eating only the natural ones – the green hue of the actual nut is natural and comes from chlorophyll. To keep pistachios fresh and crunchy, store them in an airtight container to prevent them from drawing moisture from the air and becoming soggy. If you keep them in the refrigerator or freezer, you can store them for as long as a year.
Find out which vitamins are right for you.
Everyone's dietary needs are different based on a number of factors including lifestyle, diet, medications and more. To find out
what vitamins you need
, take the
Weil Vitamin Advisor
. This 3-step questionnaire requires just minutes to complete, and generates a free, no-obligation vitamin and nutritional supplement recommendation that is personalized to meet your unique nutritional needs.
Continue the Year on a Healthy Note!
Good health begins in the kitchen. Fresh fruit and vegetable juices are easy with the Dr. Weil Healthy Kitchen Juice Extractor. This powerful yet quiet machine automatically separates juice and pulp into individual containers and is simple to use and clean. Learn more!