4 Reasons to Eat Almonds
Published: 08/30/2013
Learn More:
Do Pesticides Cause Parkinson's?
Related:
Mental Health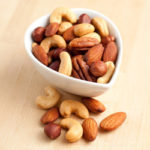 Some of the best snacks you can enjoy (in moderation) are nuts, and almonds in particular. The benefits are plentiful – almonds contain:
Monounsaturated fats that help reduce the risk of heart disease
Protein to provide sustained energy
Calcium for strong and healthy bones
Magnesium, which promotes normal blood pressure and healthy metabolism
I recommend unsalted or low-salt almonds that are raw or dry-roasted as a staple in your pantry. Toss almonds in a salad, cereal or yogurt; chop finely to use in a marinade or coat tofu "burgers"; consider using almond flour as a replacement for flour in baking; or simply enjoy them on their own!
Try almonds in this Sesame-Almond Cookie recipe!
Find out which vitamins are right for you.
Everyone's dietary needs are different based on a number of factors including lifestyle, diet, medications and more. To find out
what vitamins you need
, take the
Weil Vitamin Advisor
. This 3-step questionnaire requires just minutes to complete, and generates a free, no-obligation vitamin and nutritional supplement recommendation that is personalized to meet your unique nutritional needs.
Vital Choice Wild Seafood & Organics
Vital Choice's wild Alaskan salmon is recommended by Dr. Weil because of its rich nutritional content and exceptional taste. As the leading source for fast home delivery of the world's finest wild seafood, whole-food supplements, and fine organic fare, Vital Choice is committed to serving the best. Quality foods that are the purest available and always sustainably harvested. Shop Vital Choice now – and sign up for Vital Choices, our free e-newsletter with up-to-the-minute health news, recipes, and exclusive special offers.