3 Reasons You Need Vitamin B1
Published: 01/13/2014
Learn More:
New Treatment for Hair Loss?
Related:
Personal Care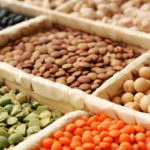 This tip is brought to you courtesy of the new Weil Vitamin Advisor – visit today for your completely free personalized recommendation of vitamins and supplements.
B vitamins support adrenal function, calm and maintain a healthy nervous system, promote key metabolic processes, turn starch and sugar into energy (by acting as a cofactor for the metabolism of carbohydrates) and play an important role in nerve transmission.
Vitamin B1, more commonly known as thiamin, influences a variety of physiologic functions, including:
Nervous system and muscle functioning
Carbohydrate metabolism
Healthy digestion
Good dietary sources of thiamin include legumes (beans, lentils), beef and pork, brewer's yeast, steelcut or rolled oatmeal, rice bran and wheat germ, whole milk, nuts, seeds and oranges. I recommend 50 mg of thiamin daily as part of a B-complex supplement that contains a full spectrum of B vitamins.
Find out which vitamins are right for you.
Everyone's dietary needs are different based on a number of factors including lifestyle, diet, medications and more. To find out
what vitamins you need
, take the
Weil Vitamin Advisor
. This 3-step questionnaire requires just minutes to complete, and generates a free, no-obligation vitamin and nutritional supplement recommendation that is personalized to meet your unique nutritional needs.
Do You Know What Vitamins To Take?
From vitamin A to zinc, getting the right amount of supplements and minerals for your body is based on factors including gender, health issues and nutrition. Find out what supplements are right for you – visit the Weil Vitamin Advisor today for your free recommendation.