3 Reasons To Eat Broccoli
Published: 01/09/2014
Learn More:
Does Driving a Truck Lead to Prostate Cancer?
Related:
Men's Health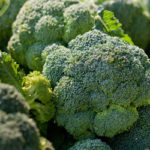 This vegetable-platter classic – along with other cruciferous vegetables – is tasty both raw and cooked, and is a standout in soups, casseroles and salads. I have long recommended broccoli as part of a healthful diet. This versatile vegetable:
Promotes a healthy nervous system. Broccoli is a good source of vitamin B2 (riboflavin), which can help calm and nourish nerve fibers.
Supports bone health. Broccoli is a good source of vitamin K and calcium – both of which help keep bones strong and reduce the risk of osteoporosis.
Can improve energy through its high levels of vitamin C, a micronutrient that supports the normal processes of cellular energy production.
The nutrients in broccoli may also help protect against cancer, heart disease, cataracts and birth defects, while promoting a strong immune system and supporting optimal gastrointestinal function. One of the healthiest ways to prepare broccoli is to lightly steam it, which can help to retain the nutritional components better than other cooking methods such as boiling. It can be difficult to coax your loved ones into eating five to nine servings a day of vegetables (as nutritionists recommend). That's why this recipe cleverly incorporates broccoli into a baked potato. Broccoli is an excellent source of fiber and cancer-fighting antioxidants. Potatoes are a universally loved vegetable loaded with vitamins C and B-6, potassium and fiber. You can make the stuffed potatoes ahead and reheat them when everyone is ready to eat. Try Stuffed Potatoes today!
Find out which vitamins are right for you.
Everyone's dietary needs are different based on a number of factors including lifestyle, diet, medications and more. To find out
what vitamins you need
, take the
Weil Vitamin Advisor
. This 3-step questionnaire requires just minutes to complete, and generates a free, no-obligation vitamin and nutritional supplement recommendation that is personalized to meet your unique nutritional needs.
Want to Eat Anti-Inflammatory?
Following an anti-inflammatory diet (and reaping its numerous benefits) doesn't have to be difficult, especially with Dr. Weil on Healthy Aging,s exclusive tips and guides to help you shop and eat healthy. A tip to try: Stick to the perimeter of the grocery store as it typically has the freshest foods and produce, as well as those with the lowest glycemic loads. For more information on how to shop for the anti-inflammatory diet, start your 14-day free trial – save 30% when you join!