2 Reasons Not to Eat Before Bed
Published: 09/15/2013
Learn More:
Calcium
Related:
Vitamin Library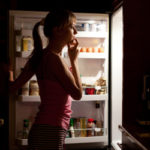 You may remember being warned not to eat just before you swim. But what about not eating just before bed? If you have ever eaten a big meal late in the evening, chances are you have had trouble falling or staying asleep. Why?
It is more difficult to digest food when lying down. Our digestive tracts work best when we are upright – sitting, standing or even walking. When you lie down after a meal, gravity can disrupt proper digestion; this can lead to acid reflux, or heartburn, which can hinder sleep.
Digesting food requires the body to expend energy. This can interfere with the relaxed metabolic state required for sleep.
Instead of eating large meals later in the evening, eat them earlier in the day, when the body will best use the energy the food provides. And be sure to limit any late-evening eating to small, healthful snacks.
Find out which vitamins are right for you.
Everyone's dietary needs are different based on a number of factors including lifestyle, diet, medications and more. To find out
what vitamins you need
, take the
Weil Vitamin Advisor
. This 3-step questionnaire requires just minutes to complete, and generates a free, no-obligation vitamin and nutritional supplement recommendation that is personalized to meet your unique nutritional needs.
Want More Healthy Sleep Suggestions?
Simply start your 14-day free trial of Dr. Weil on Healthy Aging! This online preventive health guide has an entire section devoted to sleep, from how to arrange your surroundings to natural sleep aids. Don't let quality sleep be a dream – make it your reality. Start your free trial today and save 30% when you become a member!