10 Ways to Prevent and Treat the Flu
Published: 11/09/2013
Learn More:
Hernia, Hiatal
Related:
Condition Care Guide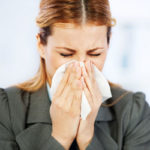 With flu season here, prevention is your best defense against the fever, body aches and cough that the virus can bring on. Use the slides in this photo album to learn about ways to prevent the flu, as well as some natural treatments if you do catch the flu.
See 10 ways to prevent the flu
Find out which vitamins are right for you.
Everyone's dietary needs are different based on a number of factors including lifestyle, diet, medications and more. To find out
what vitamins you need
, take the
Weil Vitamin Advisor
. This 3-step questionnaire requires just minutes to complete, and generates a free, no-obligation vitamin and nutritional supplement recommendation that is personalized to meet your unique nutritional needs.
You Aren't Alone
Millions of people worldwide want to improve their emotional health. If that includes you, learn to change your outlook – naturally. Dr. Weil's website, SpontaneousHappiness.com, focuses on natural, gentle and effective ways to improve your mood, manage negative thoughts, even get better sleep. And our community is there to support you and let you know you aren't alone. Learn more – start your 10-day free trial today, and save 25% when you join.