Gastrointestinal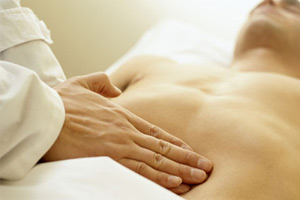 From irritable bowel syndrome to gastro- esophageal reflux, many gastrointestinal diseases can befall the digestive tract. Prevention and treatment tips for gastrointestinal problems can be found here.
Related Gastrointestinal Articles
All Related Gastrointestinal Articles
Related Q&A's
A Cure for Crohn's Disease?
What do you recommend for treatment of Crohn's disease?
Always Nauseated?
I am constantly nauseated. I've had every test and nothing turns up. What can I do?
Battling Stomach Bug?
I was diagnosed with H. Pylori eight years ago and did the antibiotic treatment, but the bacteria came back again. I am now trying to decide if I should try herbs and vitamins in an effort to eliminate the bacteria. Or do you recommend trying antibiotics once again? I don't like the side effects.
Battling Ulcers?
A friend of mine is a 25-year-old male who has been diagnosed with an ulcer and has chronic stomach issues. He has been taking various medications including Nexium, Prevacid, Trimox and Biaxin. Can you recommend any natural remedies he could try?
Belly Too Big?
After I eat, my stomach swells to the point that I appear nine months pregnant. It happens after every meal, regardless of what I eat. It is not only uncomfortable, but unsightly, and I have to unbutton my clothes. What can I do? Is this something to be concerned about?
Best Sedation for Colonoscopy?
I just turned 50, and am planning to get my first colonoscopy. But I am confused about the question of sedation for the procedure, as I understand there are many options. What do you recommend?
Bezoars: A Digestive Dilemma?
My mom (age 70) has developed a bezoar of undigested vegetable matter. She lives on high fiber foods such as kasha, nuts, vegetables and fruit, but her doctor says she can't have those foods any more. Is there any non-surgical way to break up or get rid of a bezoar, or to be able to eat her favorite foods without making things worse?
Botox for the Bladder?
I'm a woman in my 50s and have been battling overactive bladder for a few years. No treatment seems to help much. I've heard that Botox can work on stubborn cases like mine. Is it worthwhile?
Bowel Movement Blues?
What do your bowel movements tell you about your health? I've heard that their appearance can yield valuable information, but I don't know what to look for.
C. Difficile: Battling A Bad Bug?
What can you tell me about the illness cause by C. difficile bacteria, which I understand can be deadly and hard to treat. I would like to know what could be done to prevent it.
Can Food Poisoning Cause Long-term Illness?
My neighbor insists that her arthritis is a result of food poisoning from eating tainted chicken last year. This sounds really far-fetched to me. Do you think it could be true?
Can I Detox With Coffee Enemas?
I have heard that coffee enemas can be used to detoxify the body. What can you tell me about this?
Colonoscopy Worry: Missing Microbiome?
I have to prepare for a colonoscopy by taking cleansing agents to clean out my colon. I am worried this will affect the populations of healthy bacteria in my digestive tract. What should I do to restore the bacteria wiped out by the cleansing process?
All Related Gastrointestinal Q&A's