Learn More:
Eco-Friendly Cookouts?
Related:
Cooking & Cookware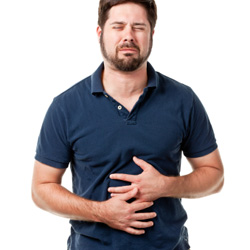 This tip is brought to you courtesy of the new Weil Vitamin Advisor - visit today for your completely free, personalized recommendation of vitamins and supplements.

Gastrointestinal health is an important, if often overlooked, aspect of overall health. While bowel function may not be near the top of your list of health priorities, it should be - irritable bowel syndrome (IBS) and inflammatory bowel disease are serious issues. If you suffer from occasional indigestion, constipation, gas, irritable bowel syndrome or other digestive complaints, simple changes to your diet and how you manage stress can help. In addition, prudent supplementation can also be effective - the following have been found to help promote healthy digestion:
Psyllium. This dried seed husk derived from the plantain does double duty: it can be used as a laxative when you experience constipation, but may also prevent diarrhea by adding bulk to your stool. It is helpful for those with IBS, and is good for general bowel maintenance. Always take psyllium with plenty of water.
Probiotics. If you plan on traveling, are taking antibiotics, have slow digestion or experience excessive gas, probiotic supplements may help. These products contain "friendly" bacteria that can stabilize the digestive tract and aid in digestion. Choose a probiotic supplement containing at least one billion colony-forming units (CFUs) or more per standard dose.
Triphala. This ayurvedic herbal mixture is designed for ongoing use. Triphala promotes regular bowel function through its mild laxative properties and helps regulate bowel tone. Consider using triphala (capsules only) for 10 weeks, then taking a two-week break.
Plant-derived digestive enzymes. For example, bromelain, derived from pineapples, can help digest specific nutrients and help in cases of food sensitivity.
Artichoke-leaf extract. It may help relieve indigestion by increasing bile flow needed to digest fats.
Deglycyrrhizinated licorice (DGL). This herbal extract can soothe and protect the lining of the esophagus and stomach.
The new and improved Weil Vitamin Advisor has more information on supplements for digestive health - visit today to learn more.
Find out which vitamins are right for you.

Everyone's dietary needs are different based on a number of factors including lifestyle, diet, medications and more. To find out
what vitamins you need
, take the
Weil Vitamin Advisor
. This 3-step questionnaire requires just minutes to complete, and generates a free, no-obligation vitamin and nutritional supplement recommendation that is personalized to meet your unique nutritional needs.
What's In Your Supplements?
Many vitamins and supplements contain fillers, casings and binders that may hinder absorption. The vitamins and supplements in the Weil Vitamin Advisor use only the highest quality, readily absorbable ingredients, with instructions on how to get the most out of each selection. Visit today for your free supplement recommendation. Learn more - click here!