Learn More:
Should Seniors Worry About Weight?
Related:
Aging Gracefully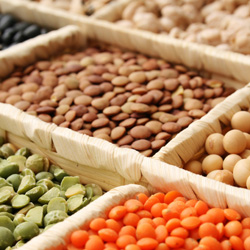 They often get a bad rap for causing indigestion and flatulence, but the health benefits of beans (and other legumes, such as lentils) make them a stellar choice in a healthful diet. Beans are:
An excellent source of vegetarian protein, providing six to seven grams per half-cup serving.
High in folic acid, which may help to protect against cancers of the lung, colon and cervix, and prevent birth defects.
A great source of fiber, dishing up 25-30 percent of the Daily Value of dietary fiber, 75 percent of which is insoluble - the type that reduces the risk of colon cancer.
A low-glycemic-index food, making them a good option for diabetics.
In addition, most varieties are inexpensive and versatile. I recommend one to two servings of beans and legumes per day - easy to do if you swap out meat for beans in salads and sandwiches, and make hummus or bean dip part of an afternoon snack. And if stomach upset is a concern, you can improve the quality and digestibility of beans by consuming them with grains such as brown rice, which provide a complimentary protein profile. Discarding the soaking and cooking water when using dry beans may also help reduce flatulence.
Find out which vitamins are right for you.

Everyone's dietary needs are different based on a number of factors including lifestyle, diet, medications and more. To find out
what vitamins you need
, take the
Weil Vitamin Advisor
. This 3-step questionnaire requires just minutes to complete, and generates a free, no-obligation vitamin and nutritional supplement recommendation that is personalized to meet your unique nutritional needs.
The Diet Dr. Weil Recommends
The Dr. Weil-recommended anti-inflammatory diet is available on Dr. Weil on Healthy Aging. A healthy lifestyle can help reduce the risk of age-related diseases such as heart disease, Alzheimer's and many forms of cancer. Get started with our exclusive shopping guides, eating tips, recipes, interactive tools, videos and more. Start your 14-day free trial now and save 30% when you join!