Learn More:
Diabetes, Type 2
Related:
Condition Care Guide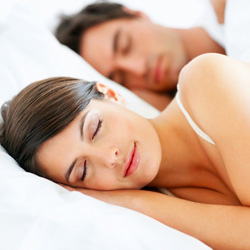 Sleep is clearly vital to emotional well-being. One study at the University of Pennsylvania found that subjects limited to four or five hours sleep per night reported feeling more stressed, angry and sad. Their moods improved dramatically when they resumed normal sleep.

But what is it about sleep that's so vital to emotional health? As it turns out, mood disorders are strongly linked to abnormal patterns of dreaming. Conversely, dream researchers at Chicago's Rush Medical Center have found that people who dream - and remember those dreams - heal more quickly from depressive moods associated with divorce.

Unfortunately, many prescription medications, including sleep aids and antidepressants, suppress dreaming. So I suggest that if you have difficulty sleeping or are not getting enough sleep or sleep of good quality, you need to learn the basics of sleep hygiene, make appropriate changes, and possibly consult a sleep expert. You might also keep a dream journal at your bedside, which will help you develop the habit of recalling your dreams upon waking. This can help you to embrace and value dreaming, and, it appears, leave you a happier person in your waking life.
Find out which vitamins are right for you.

Everyone's dietary needs are different based on a number of factors including lifestyle, diet, medications and more. To find out
what vitamins you need
, take the
Weil Vitamin Advisor
. This 3-step questionnaire requires just minutes to complete, and generates a free, no-obligation vitamin and nutritional supplement recommendation that is personalized to meet your unique nutritional needs.
A Challenge for Your Body, Mind and Spirit!
Looking for a challenge? How about achieving a healthier diet, more resilient mind, and uplifted spirit - in just eight weeks? SpontaneousHappiness.com can help: we have the information, interactive tools and support to help you reach these goals. Each week provides simple, sustainable steps for a renewed, vital body, mind and spirit. Learn more - start the 10-day free today!